ILikeBubbles
I need to be at home for new screen shots, but let's take a tour though Ye Olden Days, shall we?
Ambrosine: Paladin, the first character I ever rolled…
Gee, I remember that gear.
Jamethera: Had the privelege of being my only other 60…
Aedeminar, the druid: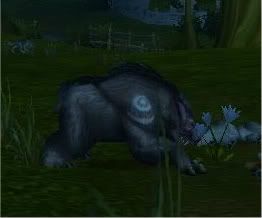 Dear lord, bear form was really awful, wasn't it.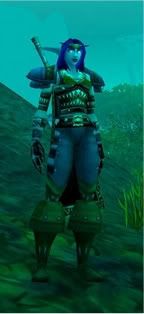 I don't have much in the way of baby!Lyr screenshots, it seems, so here you go, unless I find a better one at home:
And a death knight is never very wee, but here we are, the Vainglory in her early days: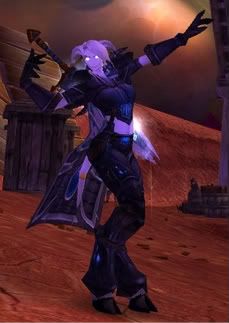 RP has actually been my primary WoW focus outside of raiding lately, so in the interest of breaking radio silence, RP shall be the topic today.
First, I would like to declare that I have no problem with darker themes in role play. There need to be 'not nice' people in the world, after all, but playing the part of the villain needs to be done with caution.
Everyone knows (I hope) that physically maiming or killing another character isn't something that should be done without permission. Even 'simple' thievery should be broached OOCly beforehand. unfortunately, it seems as if I have to add if you character intends to sexually assault and/or rape another character, maybe you should bring it up OOCly first.
For fuck's sake, people. This isn't just a "Hm, this could really affect the character" type thing, it's a "You know, this sort of crime is distressingly common IRL, I might accidentally bring up some really unhappy memories for people this way."
There has been a thief-type character on my RP server targeting various women on the server for more than simple theft. If this was done respectfully it would be one thing, but it's not. When my rogue was approached by this guy, I looked at the situation and saw it as a set-up. I figured being robbed was likely, but didn't peg it as anything worse than that, and decided to go along with it because if you dangle enough gold in front of my street waif she's going to let some of her natural caution go a bit. You can imagine my eyebrow quirking when the RP turned…elsewhere. Now I had the wherewithal to cut the RP short and handle it ICly and OOCly without it bothering me, but that's not going to be the case for everyone.  At least one of the other victims was a new RPer on her first character who had no idea she could step up and go hey, this isn't okay. Elune on a mother fucking pogo stick, people! If your RP creeps out half the server, YOU MIGHT BE GOING ABOUT IT WRONG.
This particular issue is being handled ICly (the Stormwind Guard are now involved) as well as being brought up OOCly. I do hope that this is channeled into less creepy avenues from here on out, because WoW is for having fun, not…trauamtizing people.
This shouldn't even have to be a mother fucking topic!
LFR has been kind of me–even while the loot gods extract their payment in simply not dropping the transmog gear I want. Woe.  At least I match. I also leveled my druid to 85 and got her to LFR level…and she is yet another healer, ladies and gentlemen.  WILD GROWTH ALL THE THINGS. We'll see if she inherits the LFR loot luck or must flail around being That Healer in PvP Gear for awhile. I seem to be doing much better with my under geared druid than I did my priest at the same gear level–the other day I healed Well with a  full guild group where the tank was in DPS gear for giggles. In my pvp blues. What?
Anyway. Lyr. I had her transmogged into t9 but liked this set enough to strip the transmog from it–except for my helm, of course. Halo forever. I think I need a new weapon to really match it, but…well, later. I remain frustrated in my ability to play Word of Dresscraft because the loot gods are just NOT dropping my PRETTY gear.
Except for the druid, who got lucky in Ulduar and landed a lot of the transmog gear I wanted in one shot.
So…by that logic, she is probably screwed for actual gear. Fuck.
Anyway. Hi. I live. Doing LFR as much as I am, surely I'll have blog fodder…at some point…right?
My priest is now solidly geared, with more pieces of tier than my main (probably because I keep giving away tokens to guildies for their 4 piece….).  I am still working on Lyrandre because her DPS shoulders and chest still have to go, but the bulk of my alt-obsession has refocused on my druid.
Poor Aedeminar. She was rolled in vanilla and never got anywhere, really. I can conquor my hatred of questing by tackling the LFD though!
…yeah. We all know what my leveling LFD life is like, don't we?
There is a REASON she is tank and resto specced. It's because when she hit Wrath content and Utgarde vomited up all the Tanks Who Were Not Tanks, I said AAAAAAAH FUCKING CUMGUZZLING WHORES and started tanking.
Well, I hit that point again the other day, after healing a couple of really special cookies. So I queued as tank and got Halls of Stone.
Auuugh, but okay. I was pulling cautiously because, come on, it has been a LONG TIME since I have tanked on Mina–at least a year. Shit CHANGED, yo, and I have hardly any idea what I'm doing. At some point, however, I observed that someone was running ahead, grabbing additional mobs, and dragging them back to me.
Hey!  Hey, mother fucker, that's rude! I don't know if I'm prepared for that shit! Of course the obvious answer is to LET THE IDIOT DIE, but wait.
Wait.
When I saw who was doing it, I was shocked. IT WAS THE HEALER. THE MOTHER FUCKING PRIEST HEALER.
WHY DO YOU BETRAY ME SO, HEALER? ARE WE NOT KINDRED? DO WE NOT KNOW HOW FUCKING ANNOYING IT IS WHEN SOMEONE DOES THAT BECAUSE THE TANK CAN MISS SOME AND THEN THEY ARE BEATING ON YOU AND OH GOD WHY.
WHY. I CAN'T EVEN LET YOU DIE OUT OF REVENGE, FUUUCK.
And then I saw him using mind sear on single targets and I was just like dear lord, there is just no winning this.
I left Lyr in the image so that you can appreciate this happening when I'm on my priest and not my DK.
ETA: If you can go into a heroic in pvp gear and do 15k DPS, this post is not about you.  Also, there's a line between "I am a PVPer stepping into PvE content" and "I'm a PvEr who bought these blues off the AH when I dinged 85 and didn't bother to reforge, gem, or enchant anything, so that I could have random people carry me through heroics." It is the latter who have sparked my ire.
Dear DPS in Full PVP Gear,
Look, I realize that using PVP gear to cheese the ilevel requirements is a quick and easy way into the new heroics. Really, I do–see my own pvp shoulders?  But please understand one thing: the heroics themselves will not be quick and easy while you're limping along doing less than half of the DPS of everyone else. 9k is not an acceptable amount of DPS.
You can't count on some uber DPS trying to cap VP coming along and carrying your sorry, lazy ass. Murphy's Law states that you will be tossed in a group with all or one of the following:
other DPS doing the exact same thing and sucking just as hard
someone on an alt still figuring out WTF they are doing
some fucking idiot who thinks that wearing half healing and/or tanking gear to DPS is somehow fucking hunky dory
someone with 2 FPS
someone with perfectly good gear who is just That Guy who is terrible no matter what
And then things won't die fast at all and your healer will run out of mana healing these super long fights while the 2 fps guy stands in bad and OH GOD THE PAIN WHAT THE FUCK IS WRONG WITH YOU?!
Newsflash: the normal heroics are STILL IN THE GAME.
GO FUCKING RUN THEM YOU LAZY ASS COCKKNOB.
Get some other heroic loot and some JP stuff and then maybe, just maybe, you can fucking SUPPLEMENT your shit with pvp gear to cheese the last bit of ilevel, okay?
BUT YOU REALLY CAN'T WEAR JUST PVP GEAR AND NOT MAKE ME WANT TO RIP OUR YOUR ANUS VIA YOUR THROAT.
After I asked, in exasperation, for the paladin doing 10k DPS to gem his gear after we were done:
The funny thing is I didn't see him in any healer gear. I saw him in TANK gear…but not…healing gear.  I…I don't even.
We won't even touch the rogue in mostly PVP blues doing 9k. Actually, yes we will. HIS crowning moment was saying, after our first tank dropped in disgust (I was their second healer): "Oh thank god he left, I've been trying to kick him since the first boss."
I could marinate in the irony.
Instead I am indeed going to cry myself to sleep, despite only needing 50 more VP to get new boots.
Coming soon to a LFR near you: that mother fucking disc priest in PVP shoulders, a +hit chest (albeit reforged), and a fucking blue weapon.
Fuck yeah, baby. Lyrandre's back in town. You know you missed me. I sure as hell missed you.
Don't look at me like that, internet. I promise I will gem and enchant ALL THE THINGS before I hit LFR.  Even if they're PVP and +hit things. Except maybe the weapon. I'm just going to have to replace that piece of shit.
The healing reflexes were pretty rusty when I started this project, but I think I've got them mostly working now. I haven't wiped a 5 man in awhile–just that one time, when the tank and I ran in opposite directions by accident. I'm excited to get Lyrandre back into a raid situation–even just LFR–just to see how it flows.
When all else fails, retreat to what you know best.